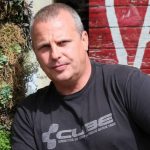 Mark spent his early years within a short walk of Healey Dell which was the inspiration for his interest in wildlife and photography.  With keen eyesight, sharp haring and knowledge of animal behaviour, Mark would spot birds and animals that many people would miss.  Besides wildlife Mark has taken many photographs of the scenery in Healey Dell through the changing seasons including Fairies Chapel, the Railway Viaduct, the Owd Mill, cascades and waterfall.  After frequent visits to Healey Dell, lots of patience and quick reactions, Mark has produced stunning pictures including those of the Roe Deer, Great Spotted Woodpeckers, Green Woodpecker, Grey Heron and Nuthatch.
Mark trained in Rochdale as a painter and decorator and was a keen cyclist although this hobby has now taken a back seat to photography. Travelling all over the country Mark has visited many nature reserves and also photographs air shows, motor bike racing, scooter rallies, street photography, and helped by his ability to get on well with people, parties and weddings.
Framed pictures and prints taken by Mark are on display and available to purchase at the Healey Dell Heritage Centre & Tea Rooms which he helped to decorate as part of a team of volunteers when it first opened. The tea rooms are a good place for a break, cup of tea and place to meet friends when visiting Healey Dell.